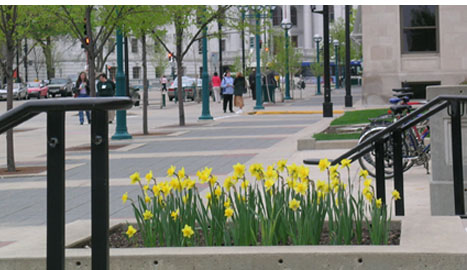 We take a holistic approach to green building that addresses the interconnection of buildings, people, and transportation. From the concept stage of a new building to greening operations in existing buildings, we have assisted developers, property owners, businesses, individuals, and nonprofits with these services:
Deconstruction and Construction Waste Recycling
Greenhouse Gas Emissions Assessments and Carbon Reduction Strategies
Green Building Planning and Management
Green Design
Green Communications
Sustainable Transportation and Parking Solutions
Sustainable Workplace Solutions

Deconstruction and Construction Waste Recycling
Removal of an existing building may be necessary before building new. If so, it's important to tear down responsibly. We provide Deconstruction Recycling and Reuse Plans to assure that projects comply with complex regulations and ordinances. The special attention we give to managing, monitoring, and documenting recycling activities has resulted in recycling up to 95% of debris during deconstruction and construction, reducing the waste disposal bill up to 50% and helping our clients gain LEED (Leadership in Energy and Environmental Design) points.

Greenhouse Gas Emissions Assessments and Carbon Reduction Strategies
We conduct greenhouse gas emissions inventories using World Resource Institute protocols to quantify the carbon footprint of an organization, office, or manufacturing facility. Utilizing our expertise in resource efficiency, green building, recycling, and transportation, we create pragmatic action plans and programs to strategically reduce our clients' environmental footprint while improving their economic efficiency. This service provides baseline data and reduction goals to meet or exceed Kyoto climate change standards. We also help our clients better understand and navigate the emerging carbon-trading and carbon-offset markets.
Project examples:
Organic Valley Carbon Footprint Consulting
RenewAire Carbon Footprint Consulting
American Family Insurance Company Carbon Footprint Consulting

Green Building Planning and Management
Our interdisciplinary expertise allows us to identify environmentally strategic opportunities affecting all aspects of a project, from site planning to materials choices. In collaboration with project team members, we can help determine a distinctive vision and inspire positive outcomes. We can provide a project plan and are available to ensure exceptional results with hands-on management and monitoring on site throughout the project lifecycle. We provide:

*Eco-charrettes to establish green project goals
*Site design recommendations with emphasis on water, transportation, and parking solutions
*Green building materials research and recommendations
*LEED (Leadership in Energy and Environmental Design) management and documentation
Project examples:
Fairmount Minerals LEED Consulting
Wisconsin Institute of Discovery Sustainability Consulting
Edgewood College LEED Consulting
Great Dane Eco-Charette
Capitol West Green Development Consulting
Goodman Atwood Community Center Green Development Consulting
University of Wisconsin Platteville Residence Facility Green Development Consulting
Network222 Transportation Demand Planning and Program Management

Green Communications Consultation
We translate technical information into concise and compelling communication, then present it in a positive and inspiring way. We can publicize the unique sustainable aspects of your project via printed materials, signage, web sites, and other media.
Project examples:
EnAct Simple Steps to Greener Living Guidebook
Dane County Clean Air Coalition Car-Lite Diet Web Development
Home Savings Bank Signage and Brochure
Madison Metropolitan School District Video Development
Culvers Veggie Oil Fuel How-to Guide
Deconstruction Recycling How-to Guide
Green Design
In all our design work, from remodeling a kitchen to designing a home or small office, we focus on maximizing the use of space. Our creative design solutions dedicated to a sustainable lifestyle utilize salvaged and eco-friendly materials and feature non-toxic spaces, from finishes to furniture. Here's how we help individuals build sustainably:

*Green consultations (on site if desired) including an expert overview of green opportunities *Green material recommendations
*Concept sketches and design development
*Construction documents
*Construction oversight and assistance
*Fullcircle Furniture
Project examples:
Hilldale Redevelopment Green Interiors Consulting
Midwest Renewable Energy Association Interior Design
Kimberly Kafka Home Design
Brooks Kitchen Design
Rearick Hain Kitchen Design
Casa Kit Homes
Sustainable Transportation and Parking Solutions
We develop and implement creative transportation programs that motivate employees, tenants, and residents to drive less. Our programs can be used to meet city requirements and to reduce parking demand by decreasing the number of single occupancy vehicles traveling to a site. We also offer a simple 14-day trip Car-Lite Diet trip reduction program. It's easy to implement in your workplace: contact meg@madisonenvironmental.com

Project examples:
Network222 Transportation Demand Planning and Program Management
Sustainable Transportation and Parking Consulting for Midwest Renewable Energy Association
First Unitarian Society Transportation Demand Planning
Capitol West Transportation Demand Planning
Sustainable Workplace Solutions
We identify the ways a business can save money without expensive infrastructure changes through energy conservation and efficient use of office space, resources, and parking space. Sustainable practices in the following areas not only benefit the bottom line but can also boost green marketing power:
*Recycling/waste management
*Energy conservation
*Space productivity
*Transportation and parking
Project examples:
SC Johnson Waste Management Consulting
The Carlson Company Sustainability Consulting
The Fiore Companies Waste Management Study and Plan